Man cannot live by bread alone. He must have peanut butter. (Bill Cosby)

Baseball, hot dogs, apple pie and Chevrolet? Buzz off. Peanut butter is the truly American foodstuff, so much so that the average American kid supposedly consumes a 125 foot high stack of these sandwiches by the time they graduate high school.

The exact origins of peanut butter are hazy, but the substance we know today appeared as the nineteenth century was winding down. One of the earliest mentions of the PB sandwich was in The Southern Housekeeper, an 1898 Atlanta cookbook which featured recipes for Hamburg Steak, Saratoga Chips (potato chips) and an advertisement for a new beverage called Coca-Cola.

Peanut butter and bread make for rather dry eating, presenting hazards that were underscored in a 1981 letter to the New York Times by choking expert, Dr. Henry J. Heimlich. He warned about peanut butter and noted that his Heimlich maneuver, devised to save choking diners, "has expelled peanut-buttered bread from the throats of choking victims and saved their lives."

So yeah, peanut butter sandwiches go down more smoothly when there's a third ingredient in the mix. That ingredient is most often jelly, of course, but it doesn't have to be. The range of foodstuffs used to liven up peanut butter and bread boggles the mind -and sometimes churns the stomach - but there is definitely life beyond jelly.

Peanut Butter & Banana
Elvis Presley's fondness for fried peanut butter and banana sandwiches - white bread, smooth peanut butter and mashed banana, fried in butter - is legendary. In The Life and Cuisine of Elvis Presley, David Adler relates that young Elvis subsisted on a meager diet of bread, lard, greens, and peanut butter. According to his uncle Vester, little Elvis "could eat his weight in peanut butter and crackers" and pitched a King-sized fit when Vester pretended to take them away. However on that one rare occasion Graceland staff recall the King preparing his own food, he broke with tradition and went with peanut butter and cheese.

Elvis Presley's Memphis, once located on Beale Street, offered Elvis's favorite sandwich. That restaurant is defunct, but the Tupelo Honey Cafe in Asheville, North Carolina, has stepped in to fill the culinary void. They offer a Grilled PB&B, described as "an Elvis born favorite on Texas toast with peanut butter, banana, and Tupelo honey."

Fluffernutter
Marshmallow Fluff was invented by a Massachusetts businessman, Archibald Query, in 1917. The Yummy Book, a collection of Fluff recipes currently in its ninth incarnation, once offered this instructive, if not very inspired, bit of verse:

Spread one piece of bread with Fluff.
Then spread another with peanut butter.
There you have it: a Fluffernutter!

The Fluffernutter can't compete with the PB&J, but it has its adherents nonetheless. Greenwich Village-based sandwich shop, Peanut Butter & Co., makes it with "freshly ground peanut butter on one side and gobs of Marshmallow Fluff spread on the other," and describes it as "heaven."

Peanut Butter & Raisin
John Updike once reminisced to the New York Times about sitting on an old sofa in his childhood home, eating peanut butter and raisin sandwiches and reading mystery novels and as early as 1919 the USDA recommended making sandwiches with thickly spread peanut butter and seeded raisins.

Of course, the best-known peanut butter and raisin combo has nothing to do with sandwiches. Ants On A Log - that perennial children's favorite - features peanut butter filled celery topped with raisins.

Peanut butter and raisin fanciers passing through Portland, Oregon might visit Peanut Butter & Ellies for a Gooey G.O.R.P. - a grilled delight stuck together with organic peanut butter, raisins and chocolate chips.

Peanut Butter & Honey
Peanut butter isn't too well-known abroad - Germany, Holland and Saudi Arabia being a few notable exceptions - and yet Cooking for Canteens, a 1943 New Zealand military training manual, listed Honey and Peanut Butter as a sandwich filling. Black Cat peanut butter, made in South Africa since 1926, offered a Honey Crunch version for a time, and Skippy has been available in a Roasted Honey Nut incarnation since 1990.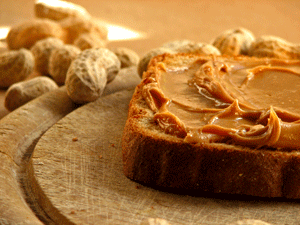 Peanut Butter & Mayonnaise
More than a century ago, The Southern Housekeeper listed recipes for Peanut Sandwiches, using "roasted peanuts chopped up into a fine paste and well mixed with mayonnaise or thick cream," and Nut Sandwiches, which were enhanced by the addition of jelly or jam. In 1968, Ladies Home Journal offered fearless eaters a recipe for a Siamese Sandwich, which combined peanut butter with mayonnaise, shrimp, raisins, apple, celery, onion, powdered ginger and lime or lemon rind.

In the anti-PC White Trash Cooking, Ernest Matthew Mickler includes a recipe for an Anti-Stick Peanut Butter Sandwich, that consists of a slice of bread buttered with peanut butter and one buttered "generously" with mayonnaise.

Peanut Butter & Potato Chips
So is it really anymore bizarre than a deep-fried Twinkie? Jeff Smith, a.k.a. The Frugal Gourmet once confessed to a fondness for peanut butter and potato chip sandwiches and later wrote about his lifelong passion for peanut butter and mayonnaise on toast.

Nowadays, connoisseurs of strange peanut buttered delights can head to Chicago's BIN 36 for a Peanut Butter, Banana and Almost-36-Potato Chips Sandwich. Minnesotans might sally forth to P.B. Loco for The Wacko, a concoction fashioned with Curry Spice Peanut Butter and jazzed up with pickles, coconut & potato chips. Diners with less adventurous palates should settle for the slightly less loco PB Chip, which combines peanut butter and you guessed it.

Peanut Butter & Bacon
Early editions of The Joy of Cooking included recipes for Peanut Butter and Bacon Canapés and a Peanut Butter and Bacon Sandwich. Cajun chef Justin Wilson published a recipe for a peanut, bacon and onion sandwich spread in Justin Wilson's Homegrown Louisiana Cookin'. Portland's Peanut Butter and Ellies offers the Ellie's PB&J, made with organic peanut butter and thick bacon and grilled to perfection. Peanut Butter & Co. weighs in with the Peanut Butter BLT and P. B. Loco offers The Memphis, which melds peanut butter with such beloved additives as banana and honey and throws in bacon bits for good measure.

Peanut Butter, Baloney, Cheddar Cheese, Lettuce, Mayonnaise & Catsup
This godawful combination was said to be a favorite of late Senator and perennial Presidential candidate, Hubert Humphrey. Peanut Better, maker of flavored gourmet peanut butter, presents, on their Web site - with no apparent irony - a recipe for the SLP Sandwich (Salami, Lettuce, Pickle and Peanut Better Sandwich).



Peanut Butter and Sugar Sandwiches
Now we're scraping the bottom of the barrel. But Google it and you'll find a few flaky types who are passionate about this combo's questionable charms. In 2002, seven-year old Emily McComas won a contest to devise the official Got Milk? peanut butter sandwich. Her Chip Chompin' Cherry Nutter combined peanut butter, dried cherries, crispy rice cereal, mini chocolate chips and powdered sugar on whole wheat bread.

Fool's Gold Loaf (Peanut Butter, Blueberry Jelly & Bacon)
In February 1976, Elvis Presley combined his passion for peanut butter and free spending ways and flew a party of friends in his private jet from Memphis to Denver. The purpose was to dine on a heroic peanut butter sandwich called the Fool's Gold Loaf, a specialty of the Colorado Gold Mine Company.

This extravagant, artery-blocking sandwich consisted of an entire loaf of bread, hollowed out, spread thickly with peanut butter and blueberry jelly and filled with a pound of crisp fried bacon. The party's "King-sized" order consisted of twenty-two Fool's Gold Loaves, a case of champagne, and a case of Perrier for Elvis and other non-tipplers. The impressive carry-out order was delivered to the party - and consumed - at the airport. The tab for the expedition? About sixteen thousand dollars.