It's been said that aspects of the artichoke resemble lobster - their defensive exteriors guarding treasure within, both of them enter our kitchens low fat sources of protein, but are often found in proximity of ramekins of melted butter by the time they hit the dinner table. They are tricky - who hasn't at one point or another been poked by the thorn of an artichoke petal, or gotten it in the eye when cracking open a lobster claw. Their rituals are involved and multi-layered in preparation and dining.

The introduction of the artichoke to California is thought to have been made by the Spanish sometime in the 1800's. A Mediterranean native, it found ideal growing conditions ater the migration, particularly in the fertile central coast. Today 80% of the artichokes bought in the U.S. come from Castroville, California, where Green Globes are grown year-round, enjoying their peak availability from late-winter to early-spring. Green Globes are by far the most widely available, but you'll also commonly find the Desert Globe - whose petals have substantial edible portions, or the Big Heart - a thornless variety with a wide heart and very good flavor, or the Imperial Star - also thornless, whose stem is edible. A member of the sunflower family, these perrenial flowers are inedible once the fully bloomed, so they are hand-harvested before flowering occurs. They are usually crated for shipping right in the field.

They've certainly led an exciting existence - in Greek Mythology Zeus turned his mistress Cynara into an artichoke plant for ungoddess-like behaviour - they've always enjoyed a reputation as aphrodisiac - they were banned briefly in New York in the '20s by Mayor La Guardia during the mafia 'artchoke wars' - Marilyn Monroe helped firm their place in American consciousness in 1949 when she was crowned 'artichoke queen' at the Castroville artichoke festival.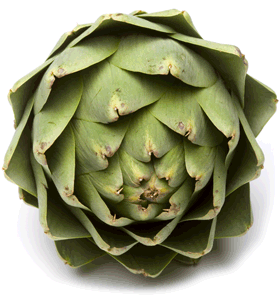 When purchasing artichokes, a good test of freshness is to press the leaves against each other and listen for a squeaky sound, and be sure to seek deep-green globes with a tight leaf formation. They should feel heavy for their size. In fall and winter it is desirable find 'chokes which are bronze, darkish, or white-blistery from exposure to light frost. These are said to have been 'winter-kissed' and the flavor is definitely enhanced by this - just make sure the inside of the leaves have nice green color. Wilted or drying artichokes should be avoided. Baby artichokes - which are simply smaller in size due to less sun exposure, having grown lower to the ground under frond protection - should be chosen firmness and the same attention to weight as the large ones.
Taken 'straight up' artichokes are a fat-free, low sodium source of potassium, vitamin C and folate. An average 12 ounce artichoke weighs in at a guilt-free 25 calories. All that is great news, but for most it is the distinct, nutty taste that attracts us to them.
Basic steamed artichoke preparation
1. Clean the artichokes in the sink using cold water.
2. Pull off any of the lower petals which are toughest and darkest.
3. Shorten the stem up to the base.
4. If desired, cut of the to 1/4 and the ends of the petals.
5. Plunge into water acidified with 1 tablespoon of vinegar or lemon juice per quart (this is to preserve the color).
6. In a deep saucepan or pot place on a rack an inch or two above boiling water. Cover and steam 30 to 45 minutes, depending on the size - the petals near the center should be easy to pull out.