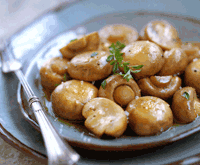 Ingredients:
4 tablespoons
extra-virgin olive oil
1/4 teaspoon
coarsely ground pepper
4
bay leaves
1 tablespoon
red wine vinegar
12 ounces
button mushrooms, stems trimmed to 1/4 inch, halved or quartered if large
3 sprigs
thyme
1 tablespoon
water (optional)
Coarse sea salt to taste
Preparing:


Greece's hot, dry climate means that, for many Greeks, mushrooms are a rare treat. Only those living in the northern countryside or in the hills and mountain's can find wild mushrooms, and it's customary to preserve some to give to relatives and friends living in Athens and the south. The mushrooms are usually dried, but in this recipe from Epirus they are preserved in thyme - or Greek oregano-scented vinegar. Delicious with aged kephalotyri cheese and Meze Bread, or pleasing accompaniment to grilled foods or sausages.
In a small, heavy saucepan, combine 2 tablespoons of the olive oil, the pepper, bay leaves, and 1/2 tablespoon of the vinegar. Warm over very low heat. Add the mushrooms and 2 of the
thyme
sprigs. Cover the pan with a tight-fitting lid and, holding the lid in place, gently shake the pan. Cook the mushrooms in their own juices for 10 minutes, or until just changing color and still a little firm; stir once or twice with a wooden spoon and add the water if the pan appears dry. Transfer everything to a bowl. Pour over the remaining 2 tablespoons olive oil and 1/2, tablespoon vinegar. Cover and set aside for at least 1 hour or up to 3 hours.
Discard the thyme sprigs. Transfer the mushrooms mixture to a shallow bowl or platter. Sprinkle with salt and the leaves from the remaining thyme sprig.
This and many other wonderful recipes may be found in
Rosemary Barron's Meze
from Chronicle Books