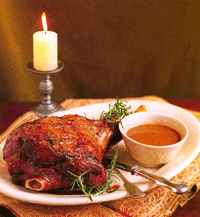 Ingredients:
1
boned lamb shoulder, 3 1/2 to 4 pounds, or 1 bone-in leg of lamb, about 6 pounds
3
cloves garlic, cut into slivers, plus 1 tablespoon chopped
Leaves from 2 or 3 small fresh rosemary sprigs, plus about 1 tablespoon chopped
Juice of 2 large lemons (about 1/2 cup)
4 tablespoons
extra-virgin olive oil
Salt and freshly ground black pepper to taste
For the Sauce:
3 cups
lamb broth
Minced garlic to taste
Chopped fresh rosemary to taste
Freshly ground black pepper to taste
12
braised or roasted garlic cloves, pureed (optional)
Serves 6
This and many other wonderful
recipes may be found in
Cucina Ebraica
by Joyce Goldstein
from Chronicle Books
In the old days, braised lamb shoulder was considered a festive cut of meat. Leg of lamb was forbidden unless the sciatic nerve was removed. Today, most of us look upon leg of lamb as a festive cut, and the fattier, tougher shoulder has been relegated to stews. If you are not keeping strictly kosher, use a bone-in leg of lamb. A 5-to-6 pound bone-in leg will feed 6 people nicely. The amount of garlic and rosemary is up to you. Rosemary is a powerhouse of an herb and a little goes a long way, so be judicious. It is nice if you have a little lamb broth for pan juices to spoon over the roast meat. It can be thickened with a puree of roasted or braised garlic. Potatoes can be roasted in the pan along with the lamb. Although they will not be crisp, they will be succulent from cooking in the lemony pan juices.
Preheat an oven to 375 degrees F. Make shallow slits all over the lamb and insert the garlic slivers and rosemary leaves into the slits.
In a bowl, stir together the lemon juice, olive oil, chopped garlic, and the 1 tablespoon chopped rosemary to use for basting the meat as it roasts.
Sprinkle the lamb with salt and pepper and place in a roasting pan. Roast, basting occasionally with the oil-lemon mixture, 1 to 1 1/4 hours, or until an instant-read thermometer inserted into the thickest part registers 120 degrees F.
While the lamb is roasting, make the sauce: In a saucepan boil the lamb broth until reduced to 1 1/4 cups, then season with a little garlic, chopped rosemary, and black pepper. Alternatively, thicken the reduced broth with the pureed garlic.
Remove the lamb from the oven and let sit for 10 to 15 minutes. Slice and serve on a warmed platter. Spoon the sauce over the top.
Variation:
To use a boned leg of lamb, 4 to 4 1/2, pounds, combine about 2 tablespoons minced garlic, 2 tablespoons fresh rosemary leaves, grated zest of 1 lemon, and an ample amount of freshly ground pepper. Rub this mixture on the inside of the lamb leg, roll up the leg, and tie securely with kitchen string. Make slits in the outside of the rolled leg and insert garlic slices and rosemary leaves into it as directed for the bone-in leg. Roast as directed, let rest for 10 to 15 minutes, snip the strings, slice, and serve on a warmed platter. Spoon the sauce of reduced lamb broth over the top.