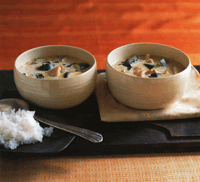 Ingredients:
2
medium zucchini or 2 long purple Asian eggplants
1 1/2 cups
unsweetened coconut milk
2 to 3 tablespoons
green curry paste
3/4 pound
boneless chicken thighs or breast, cut in big, bite-sized pieces
1 1/2 cups
chicken broth or water
2 tablespoons
fish sauce
1 tablespoon
palm sugar or brown sugar
6 to 8
wild lime leaves, torn or cut in half (optional)
A handful
of fresh Asian or Italian basil leaves, plus basil sprigs for garnish
This and many other wonderful recipes may be found in
Quick & Easy Thai
by Nancie McDermott from Chronicle Books


Green curry gets its name from the profusion offresh hot green chilies fortifying the curry paste, rather than from the color of the finished curry. Some say it is the hottest of all Thai curries, but curry heat depends both upon how a given curry paste is made, and how much of it the cook stirs into the curry pot. The classic green curry uses chicken with lots of golfball-sized Thai eggplant, known as makeua poh, along with a flourish of the tiny, fragrant eggplant called makeua peuang, which adds a unique herbal note to the curry. I like it with chicken thighs cut into generous chunks and zucchini or yellow squash, or some of both. Long purple Asian eggplant makes a fabulous alternative. The lime leaves and basil are lovely, but not essential to a great green curry.
Cut the zucchini in half lengthwise and then crosswise into 1-inch chunks; set aside. In a medium saucepan or heavy skillet, bring 3/4 cup of the coconut milk to a gentle boil over medium-high heat. Cook for 2 to 3 minutes, until it begins to thicken and becomes fragrant. Add the curry paste and cook 2 to 3 minutes, pressing and stirring to dissolve it into the
coconut milk
. Add the
chicken
and cook 2 minutes more, tossing to coat it with the sauce.
Add the remaining 3/4 cup coconut milk, the chicken broth, zucchini, fish sauce, palm sugar, and about half the wild lime leaves, if using, and bring to a gentle boil. Reduce heat to maintain a lively simmer and cook, stirring now and then, until the chicken is cooked and the zucchini is tender but still firm, 8 to 10 minutes. Remove from the heat and stir in the remaining lime leaves and the fresh basil leaves. Garnish with a few sprigs of fresh basil and serve hot or warm.